Future Housing Facility
"Our aim is to create a residence for youth that functions like a neighbourhood. We feel it is important to provide positive, liveable spaces for youth that they can call home."
Durham Youth Housing and Support Services has completed some important work, funded by Human Resources Development Canada to design the ideal facility for our programs and services (see design concepts below).
Durham Youth House, an interim 10 bed shelter, opened on April 7, 2008. We are now working toward establishing a facility consisting of 10 emergency beds, 50 beds of transitional housing and 10 additional beds of supportive housing.
Our future facility will be a living community where both youth and staff are equal participants in the social dynamics of the place. Residents will be able to choose freely between making or avoiding social interactions by providing various scales of public and private spaces. A resident's personal space is highly valued and respected like any good neighbourhood.
Design Concepts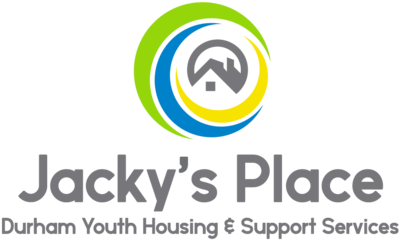 Jacky's Place is a transitional housing program, which is an intermediate step between emergency crisis shelter and independent permanent housing for at-risk, homeless youth (aged 16-24) for up to one year. Our intake, assessment and screening process allows us to develop a comprehensive and individualized case management plan. This plan is designed to empower each young person to achieve both short and long term personal, career and housing goals.
What We Have To Offer
One to one case management
Life skills such as; budgeting, banking, cooking, relationships, anger management and conflict resolution, mindfulness, coping strategies, resume writing, job searching, etc.
Access to Joanne's House on ex-resident nights
Groceries, utilities, hygiene products, clothing, fully furnished room, internet and cable
Safe, friendly neighborhood close to schools, shopping, the library and other social service agencies